Lovense Lush 2 is a 2nd generation sex toy from "the lush" remote control vibrator. The model is the first to allow connectivity from an apple watch. In addition to that, it is four times powerful in vibrations and its connectivity is top-notch.
The mother company "Lovense" is a Hong-Kong company best known for its development of High-tech sex toys. Lovense was founded in 2009 following the founder's long-distance relationship. The company aims at improving the bedroom experience.
Lovense has established ground in the sex industry and for that, it has gained several awards. Best of High Tech in the Glamour awards in 2017, best Technology Innovation in Altporn award in 2017, and Progressive Pleasure Products Company of the year 2018 at the XBIZ Europa Awards.
Now, please sail with me to learn the reason why you need this wonderful sex toy.
PROS OF LUSH 2
You can customize the vibrations to your preference. This makes it ideal as it gives the client ultimate satisfaction.
Its vibrations are quiet. This makes the experience discreet, making it possible to get naughty and creative, anytime, anywhere.
It provides longer services and needs a shorter time to recharge. This feature helps clients to enjoy intimacy for a long time without the care of recharge.
Lush 2 is made from silicon which is safe for your body at the same time, giving it a human-like feel.
CONS OF LUSH 2
The silicon may be a disadvantage depending on your preferences.
It is modeled for internal stimulation.
When not in close range with your partner, the Bluetooth is not effective.
When using internet connections with a long-distance partner, it may malfunction. The antenna may break if bent roughly.
Before You Get A Lovense Lush 2…
Before contemplating a purchase, consider your preferences which determine the products you go for and also, the warranty. I particularly love Lovense lush 2's warranty, which lasts one year and caters for all working parts.
You will need to ask yourself some pertinent questions like why exactly are you going for it, is it to accessorize the action or simply for satisfaction like when your partner is away, is it for external or internal plays.
Start by considering the kind of material you want for your vibrator. While some may consider plastics, silicon offers "real" experience. You don't want to get in the mood and in between getting those reality-check lapses.
Ensure you research on how best to use and maintain it for a longer life span.
Consider its design. Do you prefer the adjustable toy, which in most cases gives a variety of options and styles? The Lush 2 curve design enables it to hit the G-spot hence causing multiple orgasms. Nonetheless, the product is not very good for anal stimulation. The Lovense Hush and edge are recommended for this.
Review of the Features of Lovense Lush 2
The overall design
The Lush 2 comes with a curved model, which goes as deep as 3.14 inches and a girth of 1.4 inches. This makes it very ideal to reach your G-spot. The flexibility allows you to adjust the arm to fit it right.
The antenna is 4.8 inches and this is where commands are received. The power button is located here and this reduces the possibility of damages contrary to Lush 1. Also, this allows you to use power on and off without removing it.
The internal motor, located at the tip is very powerful and it provides 7 types of vibrations. Low vibrations, medium, high, pulse mode, wave mode, fireworks mode, and earthquake mode. To top it up, whether you prefer light or rough stimulation, whether you are a beginner or a pro the Lush 2 serves your right.
The vibrations and the positioning of the button enables you easily maneuver in solo play. I normally appreciate testing the 3 set speeds for clitoris stimulation as it helps me get in the right mood.
The vibrator has a strong battery and you don't need to charge it frequently. However, before use, ensure you charge it for 1.5 hours. It is also designed as waterproof, which is an added advantage in your checklist.
Connectivity
Lush 2 is wireless and compatible with Bluetooth, Android, Mac, and Windows. To pair it with your preferred device, this is what is expected of you.
Turn the lash 2 on
When it flashes red, download the Lovense remote app and sign in. If you are a user, sign in, if you are a beginner, create an account.
After successful login, select the "connection" command then the "plus" icon.
The app will search for a connecting device, when your device is allocated, click "done" after which you will be taken to the home screen and then select "remote". Use this command to set your preferred vibration by simply dragging.
This feature will enable you to connect to a distant partner. The procedure is the same. However, you and your partner must have the app. After logging in, select the "long-distance" command. A text box will appear and you will type your partner's name. Press "done" and wait for them to accept the invitation. Then get into a private chat room and he/she can access commands.
The connectivity uses high-tech methods, and so malfunctioning is a possible hurdle. However, the Lush 2 has been modeled with 30-40 feet blue-tooth range and global internet control.
Material
This remote control vibrator is created with pure silicon. Silicon is environmentally friendly and fit for human use. Besides, the material has that "human-like" feel which is unlike other materials and I found the silicone very easy to use and clean.
The Lovense Lush 2 is also waterproof. This feature minimizes the possibility of damages when exposed to your fluid or when you decide to spice things up in the shower either in solo play or with a partner.
Other Reviews of Lovense Lush 2 From Reddit
With the recent scam and exaggeration of a product, Lovense Lush 2 Review is still the best way to determine the quality of this product, and here are some of our reviews from other users.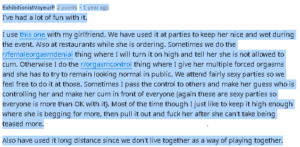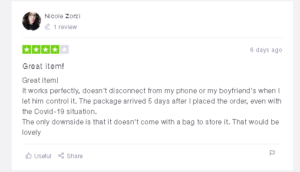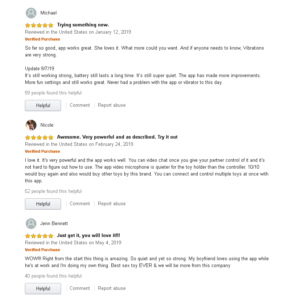 Other Vibrators Like the Lovense Lush 2
If you need another new experience or generally just looking for another remote control vibrator, below are some options you can choose from.
The Lovense Max and Nora
The two toys are independent of each other but the pleasure, when used together, is on another level. They are connected via Bluetooth or WiFi and you can control one toy by moving the opposing one. This gives pleasure to both partners just as in real-time experience.
Nora is designed with a rotating head and an arm extension. While thrusting and pumping, the arm gives clitoris stimulation, unlike Lush 2 which can only provide one at a time.
Nora is charged via magnetic USB and charges up to 2 hours, Lush 2 uses a USB and needs up to 1.5 hours to charge.
Nora is designed with ABS plastic and silicon while Lush 2 is pure silicon.
OhMiBod Esca 2
Esca 2 is shaped like Lovense Lush 2. It comes packaged with a USB cable and a satin storage bag. The vibrator can be connected using a Bluetooth app from anywhere around the globe.
Esca 2 can go as deep as 5 inches, while Lush 2 goes up to 4.8 inches.
Esca 2 has 3 vibration levels and 4 vibration patterns while Lush 2 has 3 vibration levels and 7 patterns. This feature makes Lush 2 give multiple orgasms.
Esca is splash-proof while Lush 2 is completely waterproof.
Esca 2 can go up to 3 hours of play while Lush 2 can go up to 2hours.
Esca 2 is not exactly quiet while Lush 2 is almost silent.
Lovense Hush
The Hush is recommended for anal stimulation. This is for partners who feel vaginal stimulation is too monotonous and this is also the toy best recommended for gay couples. It comes packaged in either 1.5 or 1.75 inches. It is also wireless, USB rechargeable, and waterproof. Also, like Lush 2, it can give up to 2 hours of continuous pleasure.
Its egg tip shape ensures it stays in position throughout for a pleasurable experience. The spirals on the neck make it possible for safe removal after a deep thrust. Lush 2 on the other side is bendable and so provides many different styles to be incorporated.
The base is flat and comfortable and depending on the sitting position, the lifted edge can offer clitoris stimulation. Lush 2, on the other hand, has an antenna and may prove uncomfortable while sited.
Lovense Lush 2 Review Conclusion
Lovense Lush 2 is highly recommendable for long-distance couples. It promotes intimacy and "real-time" pleasure. Secondly, this feature spices things up. For instance, a partner can stimulate the wife while he is working to psychologically prepare her.
The toy can be used for self-stimulation. If you constantly struggle to get in the mood, you can give your partner the controls to foreplay which gets you ready. Also, if you generally enjoy solo play and you are probably single, the silicon makes the experience so real.
The Lovense team takes reviews very seriously, the re-design of "the Lush" was influenced by Lovense Lush 2 Review. This makes the product credible and dependable.
Lush 2 will provide pleasure anytime, anywhere. In a park, in the office, the choice is yours to make! So if you have to wait a long day to get home to your partner, why not stimulate and tease each other before the game begins? Click here right away and check out what you've been missing
Lovense Lush 2 Review, Is The Price Tag Worth It?